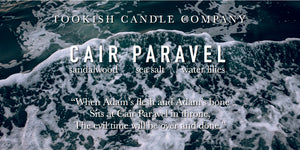 Cair Paravel
Regular price $17.00 Sale
N A R N I A  C O L L E C T I O N
"When Adam's flesh and Adam's bone
Sits at Cair Paravel in throne,
The evil time will be over and done."
—The Lion, the Witch and the Wardrobe, C. S. Lewis 
D E S C R I P T I O N
Cair Paravel is a soothing, lightly floral candle that transports you to the Pevensie children's coronation at the majestic castle by the sea. This perfectly happy ending is the result of promises fulfilled and all being restored to rights in Narnia. The scents of sandalwood, sea salt, and water lilies combine to create the smell of sea mist that will make you think of the sea people singing near the shore during the coronation and feast! 
S C E N T S  &  M A T E R I A L S
sandalwood • sea salt • water lilies
glass jar, 100% soy wax, fragrance oil, cotton wick
C A N D L E  C A R E  &  S A F E T Y
Make sure to keep your wick trimmed to 1/4".
Burn until there is an even melt pool.
Burn candle within sight and keep out of reach of children and pets.
Place candle on a heat resistant surface.
Our candles are handmade in small batches and may have minor cosmetic imperfections. This won't affect the scent or burning of your candle. To prevent tunneling, make sure to leave your candle lit until there is an even burn pool all the way around. Frosting is a natural occurrence in soy wax. It will not affect the burning of the candle.