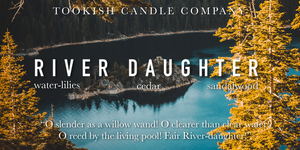 River Daughter
Regular price $17.00 Sale
M I D D L E - E A R T H  C O L L E C T I O N
"O slender as a willow wand! O clearer than clear water! O reed by the living pool! Fair River-daughter!"
—The Hobbit, J.R.R. Tolkien
D E S C R I P T I O N
The River Daughter has scents of water lilies, cold water, sandalwood, amber, and cedar. This floral candle brings the springtime wind off a sparkling forest river rushing into your home. It has the cheerful energy of changing seasons and the benevolent nature magic of Goldberry the River-daughter, giving peaceful rest to weary wanderers.
S C E N T S  &  M A T E R I A L S
water lilies • cedar • sandalwood
glass jar, soy wax, fragrance oil, cotton wick
C A N D L E  C A R E  &  S A F E T Y
Make sure to keep your wick trimmed to 1/4".
Burn until there is an even melt pool.
Burn candle within sight and keep out of reach of children and pets.
Place candle on a heat resistant surface.
Our candles are handmade in small batches and may have minor cosmetic imperfections. This won't affect the scent or burning of your candle. To prevent tunneling, make sure to leave your candle lit until there is an even burn pool all the way around. Frosting is a natural occurrence in soy wax. It will not affect the burning of the candle.