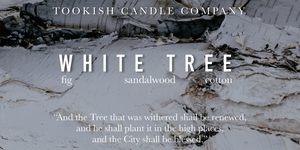 White Tree
Regular price $17.00 Sale
M I D D L E - E A R T H  C O L L E C T I O N
"And the Tree that was withered shall be renewed, and he shall plant it in the high places, and the City shall be blessed."
—The Lord of the Rings, J.R.R. Tolkien
D E S C R I P T I O N
- Inspired by the White Tree of Gondor. This candle is fresh and springlike. The clean floral scents will carry you away to Aragorn's coronation and that first happy spring of peace in Middle-earth, following the defeat of Sauron. This bright candle with its woodsy undertones is perfect for ushering in spring!
S C E N T S  &  M A T E R I A L S
fig • sandalwood • cotton
9oz glass jar, 100% soy wax, fragrance oil, cotton wick
C A N D L E  C A R E  &  S A F E T Y
Make sure to keep your wick trimmed to 1/4".
Burn until there is an even melt pool.
Burn candle within sight and keep out of reach of children and pets.
Place candle on a heat resistant surface.
Our candles are handmade in small batches and may have minor cosmetic imperfections. This won't affect the scent or burning of your candle. To prevent tunneling, make sure to leave your candle lit until there is an even burn pool all the way around. Frosting is a natural occurrence in soy wax. It will not affect the burning of the candle.