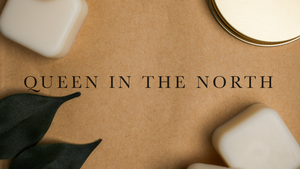 Queen in the North
Regular price $14.00 Sale
G A M E  O F  T H R O N E S
"She wondered where this courage had come from, to speak to him so frankly. 'From Winterfell,' she thought. 'I am stronger within the walls of Winterfell.'"
D E S C R I P T I O N
We decided to branch out into a fandom we have never carried in the shop! What better to way to introduce a Game of Thrones candles than with a scent based on one of the strongest, baddest ladies in all of Westeros, Queen Sansa Stark? These tars will bring the perfect bit of winter chill into your home.
S C E N T S  &  M A T E R I A L S
spice • snow • ice
soy wax • fragrance oil • eco friendly kraft pouch
W A X    T A R T    C A R E 
Our tarts are handmade in small batches and may have minor cosmetic imperfections. This won't affect the scent or longevity. To keep fresh longer, make sure the pouch is completely sealed after each time it is opened. Keep a close eye on your first melting tart to make sure your warmer can hold the all of the melted wax.
To prevent fire or injury: Remove packaging before use. Use only in tea-light warmers or UL listed electric warmers approved for wax melts. Read and follow all instructions provided with your warmer before use. Do NOT leave melter unattended while in use. Keep out of reach of children and pets.
Do NOT add water. Do NOT melt on stovetop or in non-approved appliances. Use only in well ventilated areas away from flammable objects. Discontinue use if dish contains less than 1/2" of wax.