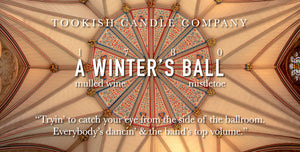 A Winter's Ball
Regular price $17.00 Sale
"Tryin' to catch your eye from the side of the ballroom,
Everybody's dancin' and the band's top volume."
—Hamilton, Lin-Manuel Miranda
D E S C R I P T I O N
A Winter's Ball smells like an upscale holiday party. You can smell the spicy, sweet mulled wine and a hint of mistletoe as you catch that special someone's eye. ;)
S C E N T S  &  M A T E R I A L S
mulled wine • mistletoe
glass jar, soy wax, fragrance oil, cotton wick
C A N D L E  C A R E  &  S A F E T Y
Make sure to keep your wick trimmed to 1/4".
Burn until there is an even melt pool.
Burn candle within sight and keep out of reach of children and pets.
Place candle on a heat resistant surface.
Our candles are handmade in small batches and may have minor cosmetic imperfections. This won't affect the scent or burning of your candle. To prevent tunneling, make sure to leave your candle lit until there is an even burn pool all the way around. Frosting is a natural occurrence in soy wax. It will not affect the burning of the candle.