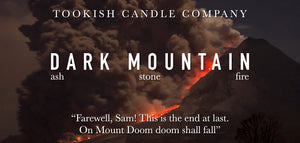 Dark Mountain
Regular price $20.00 Sale
M I D D L E - E A R T H  C O L L E C T I O N
"Farewell, Sam! This is the end at last. On Mount Doom doom shall fall."
—The Hobbit, J.R.R. Tolkien
D E S C R I P T I O N
Dark Mountain smells of ash, fire, and stone. This crisp and smoky candle brings Mount Doom to life in all its fiery glory. The smell of fire is complemented with hints of pepper and other spices to create a dark and mysterious scent, worthy of Mordor.
S C E N T S  &  M A T E R I A L S
ash • stone • fire
9 oz. glass jar, soy wax, fragrance oil, cotton wick
C A N D L E  C A R E  &  S A F E T Y
Make sure to keep your wick trimmed to 1/4".
Burn until there is an even melt pool.
Burn candle within sight and keep out of reach of children and pets.
Place candle on a heat resistant surface.
Our candles are handmade in small batches and may have minor cosmetic imperfections. This won't affect the scent or burning of your candle. To prevent tunneling, make sure to leave your candle lit until there is an even burn pool all the way around. Frosting is a natural occurrence in soy wax. It will not affect the burning of the candle.